To stay with the trend and give your website a futuristic appearance, you need a theme that allows you to alter various aspects of its layout. There is a variety of Easy WordPress Themes To Customize, which enable you to create a site that is attractive and appropriately represents your expertise or profession. An easily customizable theme is essential as it allows you to enhance your website's visual appeal and takes less effort. Changing various components of your site requires absolutely no coding knowledge. Additionally, these themes are more cost-effective than hiring a professional for website making.
Moreover, an attractive and captivating design can help attract more users and persuade them to stay longer to explore your offerings. The given themes are full of capabilities that improve user experience. You also get WooCommerce compatibility, responsive designs, Bootstrap framework, CTAs, and more. These also help improve your search engine ranking.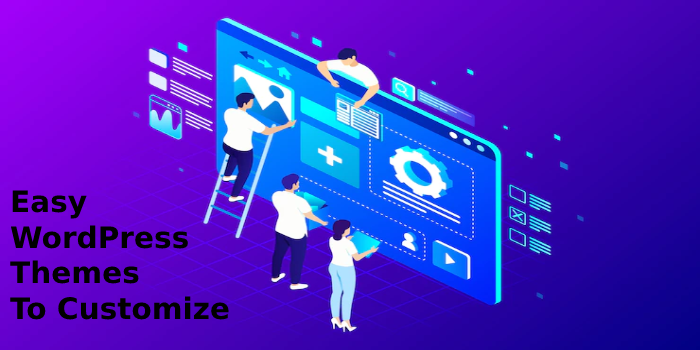 Have A Look At Easy WordPress Themes to Customize
VW Dark
VW dark is a versatile option that features a minimalistic design to support various professions. It is created by skilled professionals and is one of the easy WordPress themes to customize. Also, entrepreneurs, marketing professionals, media outlets, photographers, designers, fashion companies, consultants, etc., can ideally use this theme.
Features of VW Dark
This theme is made using Bootstrap and is highly mobile-friendly.
You will receive several customization choices along with social icons.
Your website can be translated into several languages with its WPML support.
VW Business
IT firms, wholesalers, store businesses, HR consulting, financial advisors, personal trainers, etc, can efficiently utilize the VW business. Also, you may establish a website with this particular theme that qualified developers craft. Its designs are sophisticated and market your services wonderfully.
Features of VW business
Your SEO efforts will bring fruitful results with this optimized theme.
The WooCommerce support will streamline the process of setting up an eCommerce.
This theme also features CTA to direct your visitors.
VW Multipurpose 
A simple and very intuitive design is offered by the VW multipurpose and applies to all professions. You may use it for start-ups, consultants, medical shops, media management, eBook site, IT firm, insurance, fitness, landing page, fashion store, architects, etc.
Features of VW multipurpose
Its WooCommerce makes it simple to launch a digital store and is one of the easy WordPress themes to customize.
This features retina-ready designs to give your users a high-quality experience.
The CTAs help direct the users to other pages and increase interactions.
VW Minimalist
VW minimalist is an excellent choice for those interested in creating blogs or loving writing. You can develop stunning platforms with the assistance of these themes, including sports, cooking, fitness, affiliate, gadgets, electronics, etc.
Features of VW minimalist
An interactive layout, it offers sticky posts, CTAs, and CSS elements.
This theme is based on Bootstrap and offers you a robust design.
It supports WooCommerce and features links to social links.
Conclusion
A perfect website does a great job of representing your business and gives justice to your services. You can achieve this without consulting a professional to design your website. Numerous WordPress themes offer options for customizing your site. If you search for Easy WordPress Themes To Customize, the above-listed pieces make a great choice. Moreover, these themes are professionally crafted and offer to fulfill the requirements of all sorts of businesses. They provide customization capabilities to alter the designs of your website, including menus, backgrounds, colors, logos, headers, banners, sidebars, and many more.
Additionally, they offer a variety of other functions to not only make your website attractive and intuitive but also make your website completely functional. Therefore, they provide additional features such as Bootstrap framework and WooCommerce support that make launching stores simple. Your users will have the advantage of translating your website quickly with WPML support.
WordPress Theme Bundle

All these themes are accessible with the aid of the WordPress theme bundle. This option is cost-effective and can be used by all sorts of professions. These themes supply wide-ranging capabilities that make your website completely functional. You may utilize them for marketing, start-ups, store business, media management, fitness, and more.
All these themes are responsive in design and adjust quickly to all device screens. They are also founded on Bootstrap and facilitate easy customization. You may also launch your eCommerce with these WooCommerce-supportive themes. They also come with interactive elements such as CSS animations, social media, icons for the call to action, etc.
FAQ
Can I generate profit with these themes?
All these WordPress themes allow you to create an eCommerce with their WooCommerce compatibility. This benefits you by supplementing your revenue.
Do I need to know how to code to change these themes?
No, these themes are straightforward and designed to make it easy for you to create your website. Many of these also come with shortcodes that make adding different elements easy.
Can I completely customize these WordPress themes?
These WordPress themes offer contemporary designs with the option to alter every element to your liking with its theme customizer.