Frontend Developer Jobs in Nagpur suggest to you the best traits get hired. Are you a Frontend Developer and wish to level up your career? But getting confused about where to start? Then this content will be a perfect guide for you to get hired and search for jobs. To start with, you must know your skills better and stay updated with the latest trends and tools. As the digital world is moving rapidly with no looking back. So, as a Frontend Developer, you must know how to design an interactive website.
You need to be a professional developer as companies hire you based on your experience. Make sure you own advanced and latest tools and know problem-solving tactics. This is what makes you unique giving reasons to get hired.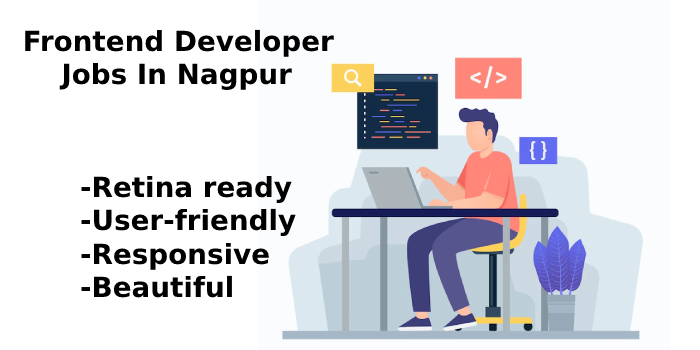 Select The Best Company And Know Which Company For Frontend Developer Jobs In Nagpur
Frontend development is to design a website that perfectly interacts with the user. The interface is visible to the user in the form of layouts, pages and forms.
You must know how to develop a website and look for the best web development company.
Go for a company that gives a great opportunity to brush up on your skills every time. Well, finding the best web development company can be crucial. As most of the time, companies claim to empower their employees but fail to do so. Don't trap your minds with this type of company.
Luckily, there is a company with the most powerful tactics in web designing. Vowel Web LLP is the leading web design company with an experienced team. Unlike others, the company not only claims but proves to have top-quality results. It holds the best credentials for web designing along with potential client support.
Skills you need to have when searching for Frontend Developer Jobs in Nagpur:
While finding the best Frontend Developer Jobs in Nagpur, you must know your skills. There are 10 important things you must have as a Frontend Developer.
HTML/CSS
HTML and CSS are the most important building blocks for web design. HTML is a Hypertext markup language that defines the structure of the website. While CSS is Cascading style sheet that deals with the style of the website. A good front-end developer needs to have a good balance of these traits.
JavaScript
HTML and CSS work on the structure and style of the website. JavaScript contributes to the design of an interactive website. This is the most popular language used by professional developers for interaction. So, make sure your portfolio has this trait.
JavaScript Frameworks
Now it comes to focusing on the JavaScript frameworks required for functionality. These are the collection of files performing different tasks and providing functionality. A front-end developer must hold this one as an important trait in the portfolio.
Responsive Design
Mobile responsiveness is the most important for a website to have. As people most probably opt for mobile devices to browse and get information. A front-end developer must have this quality without any negotiation.
Version control
This is an important state where the user gets to control the situation when anything goes wrong. This is a tracking code process where the user gets easy control over the source. And this must be understood by the developer to control such situations. It is a tool through which you can make changes to the code without affecting the whole.
Testing and Debugging
Testing and debugging are another most vital steps a developer must have. Also, Testing must be done to know about the bugs and to be solved them. You will find two types of testing: functional testing and unit testing. There are frameworks available to handle this big part of web design. So, front-end developers must know about them.
Browser Developer Tools
Browser Developer Tools support modern browsers for testing and debugging. The tools test the web pages interpreting whether the pages are working well or not. A front-end developer must have enough knowledge to use this type of tool for testing.
Web Performance
Web performance defines how the website is working. Is it loading faster and running without any lags or glitches? If this happens, then a developer must know how to optimize the web pages perfectly.
CSS Preprocessing
This is an advanced version of CSS coding. This is used to create better versions of websites using advanced styling. This advanced feature helps in effortless web designing and developers must know this.
Communication skills
Having good communication skills with clients helps to give better results. Most of the time it happens that the developer can't connect with the clients and know their needs. This is a misconception with this job that there is no need to have communication. But without knowing what clients need without communicating with them is a bad thing. So, a developer must work on this to get hired.
Conclusion
Emerging your career as a Front-end developer is a good move. And you must have got all your answers from the above text. Searching for the best Frontend Developer Jobs in Nagpur is now easier with this. We have simplified some of the best traits to select the best company to apply for. And with this, you need to brush up your developing skills as well. I hope, your vision is now crystal clear with the above text.