Hire Frontend Developer to get an interactive website ready for your company. Are you looking to Hire Frontend Developer? This is a great thought to get your company website ready. As we live in a digital era where appearance matters the most. And when it comes to a website, visitors just melt at the first appearance of it. Then only they step forward to dig out the website more. This straight away goes to how Frontend developers program the website. If you are owning a company, then must look after the Frontend developers.
And if you are looking to Hire Frontend Developer, then must grip up to the article. Hiring a Frontend Developer is not a difficult task, but hiring the best one is quite crucial. Companies wish to have an appealing website which can directly catch clients. There are so many reasons, factors and procedures while hunting for Frontend Developers. All your queries will be solved in the article.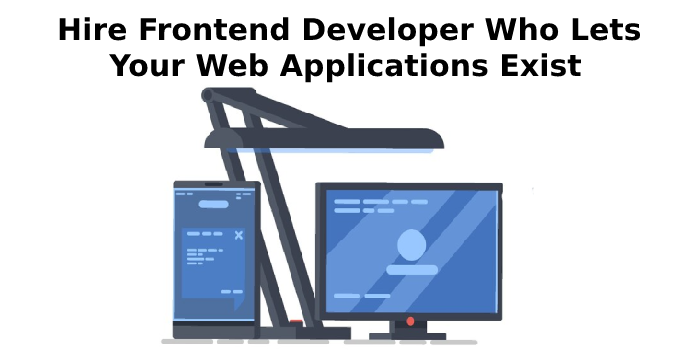 Let Us Give Light Upon What We Frontend Developers Do
A Frontend Developer gives life to a web application by mixing technical codes. There is a combination of CSS, HTML and JavaScript to come with a great design and functionality.
By using three core skills, they build an interactive website interface for users. This further includes fonts, sliders, drop-down menus, photos and other content.
It also includes creating tools that can be made it easy for users to interact with the website.
Production, modification and maintenance are also looked after by a Frontend Developer.
It is ensured that the interface is responsive enough to fit on all screens.
SEO practices are also issued under Frontend Developing.
Testing the website for usability and fixing errors are done by Frontend Developers.
Skills of a perfect candidate when you choose to Hire Frontend Developer:
While going through the selection process, you must watch these skills in the portfolio:
Professional proficiency in HTML and CSS
HTML and CSS are the most vital facts a front-end developer can't work without. As these are the two skills to create the structure of web pages and add styles. You must hire a developer who carries a good experience in it.
Understanding Test-Driven Development
This is one crucial skill you must observe while hiring a front-end developer. this software development process includes bug and error-free codes. So, the best candidate must have an in-depth understanding of TDD.
Familiar with the latest frameworks
The perfect candidate must be familiar with all types of frameworks while designing. As frameworks are the building blocks for web applications. The right candidate must carry proper knowledge of how to use frameworks when required.
Writing clean Frontend codes
The experienced candidate must have enough knowledge of front coding languages. It includes HTML, CSS and JavaScript and Typescript.
Familiar with version control systems
An experienced front-end developer must be familiar with the code versioning tools. It helps to control every step of web development. And frontend developers carrying this skill can work effectively on any project.
CSS preprocessors
Having professional knowledge of CSS is another vital skill to look at. They should also have in-depth knowledge of popular CSS preprocessors.
So, these were the easy and effective skills of an experienced Frontend Developer.
Now That We Looked Up Some Of The Best Traits To Hire Frontend Developer
Requirements for web application
While choosing the best Frontend developer, you must know your web requirements. This helps to plan and make a stiff decision.
Look up the budget
Moreover, you have to manage your budget as well. Though WordPress is not much expensive you may not compromise while developing it. You must have that scale that how much you can invest.
Look up the Potential Factors
While going through this process, you must highlight the potential factors of the candidate. It may not happen that after hiring you get to know that the candidate how not have much knowledge. So, checking reviews and communication skills must be done.
Hire Frontend Developer
Now that you have summed up the hiring process, it's time to get the right candidate selected.
Conclusion
You may have known the most important aspects to Hire Frontend Developer. The above article portrays how a Frontend Developer plays a vital role in web design. And some of the finest qualities of a perfect Frontend Developer are placed above. A Frontend Developer is the one creating interactive interfaces for a website. I hope, all your queries have been cleared with this above content.