Hire WordPress Developer to get your niche website ready. WordPress is nowadays spilling the beans with its popular CMS. We all agree that website design becomes so easier with WordPress, right? This is the reason for emerging WordPress Developers. WordPress is a user-friendly platform where non-developers can easily design a website. But at times, we need some complex and professional customizations on our website. Then a WordPress Developer continues their work and makes it better for you.
So are you in search to Hire WordPress Developer? Or where will you find the best one? Well, there are tons of websites having a crowd of WordPress Developers out there. But extracting the best one remains a question and a daunting task too.
But, we are going to make it easier in this article for you. Stay gripped and let's start with who is a WordPress Developer and why to hire.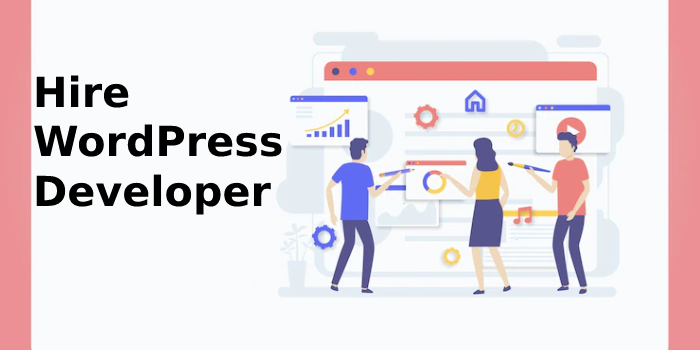 Who is WordPress Developer and why Hire WordPress Developer?
A WordPress Developer gives life to your website. The one having professional coding skills like PHP, Java, and CSS. These are the ones responsible for working on backend and frontend development.
As WordPress is one of the easiest tools to use for beginners as well. But when it comes to securing the website and keeping it updated, you need a developer.
A website must be interactive to attract potential clients and gather more leads. And this can be easily performed by WordPress Developers.
Above enhancing the website, Developers can easily implement add-ons to keep clients engaged.
Also, developers can easily manage SEO tactics and product advertisements. They know very well how to present the product well that directly catches audiences.
Developers can track your website's success graphs by applying google analytics.
One of the best ways to use WordPress is for your business to get better SEO strategies. And Developers directly focus on your business upliftment and getter good SERP ranks.
What to look in to Hire WordPress Developer?
Let us guide you with what to look in for a WordPress Developer while going selection:
HTML/CSS
HTML and CSS are the basic skills you must look for in a perfect developer. As HTML defines the overall structure of the website. And CSS is responsible to add stunning styles to the website. Having expertise in both languages can be a plus point.
JavaScript
To make a website work fluently and interact better, JavaScript is responsible. A perfect WordPress Developer must know this better and be understanding of this. JavaScript controls the frontend development serving as the main element for interactive websites.
PHP/ SQL
PHP and SQL are other big languages for WordPress Development. PHP is the actual language that suits WordPress Development. WordPress is built on this and it makes users connect with the web interface. While SQL language handles communicating with the database in the web apps.
WordPress Knowledge
Knowing what is WordPress and delivering features and plugins must be observed. A developer must know how to create user-friendly features from scratch and customize them.
Business Knowledge
Being a commercial tool, business is also a part of this content management system. Developing a website also drags you towards covering the digital market tactics too. And while hiring a WordPress Developer, these skills must also be observed:
Sales and marketing
SEO optimization
Mobile Development
Online Security
Construction Mindset
Just having bookish knowledge is not just enough. A WordPress Developer must know how to communicate as well. Interacting with potential clients and knowing their needs leads to great product development. So, while hiring a WordPress Developer, you must look at these traits:
Business Thought Process
Willing to Learn
Teamwork and Focus
Communication skills
Now comes the final step to knowing how to Hire WordPress Developer.
So to get a good WordPress Developer, you must note down your requirements. What you need in a WordPress Developer to design for you in your web project.
Next, you have to do good research on every website and check portfolios. A portfolio guides you better about a developer and their past projects as well.
After the specific research, you must approach the particular developer and ask questions. Let them know about the requirements you are looking for.
Test their abilities and ask them to perform a task.
Once you are done with this, it's time to make a good decision.
Conclusion
Hire WordPress Developer to make your niche website more customizable. That's what the above content describes. A WordPress Developer is the one developing your website according to your needs. And the above content better tells about the best traits and selection process. I Hope you are now acknowledged of how to Hire a WordPress Developer.