Serving the best strategies to find Web Designer Job in Nagpur. Web Designers are hitting the jackpots in this digital world, right? As brands prefer to invest in them to get easy hikes in businesses. Earlier, there was no space for digital branding and or web designing. But as in the digital and tech world, you need a stronger online presence. Brands imply bold strategies and broaden their services to reach global clients.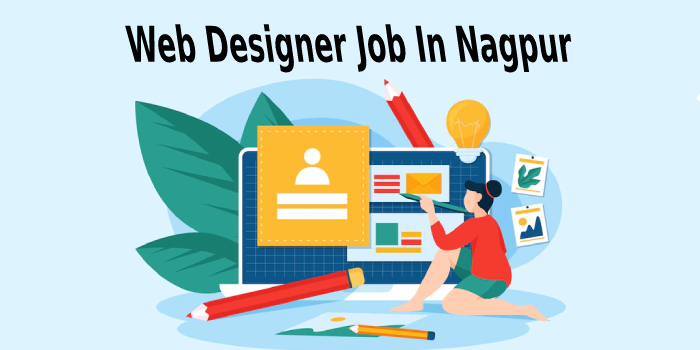 So, securing a career as a Web Designer can easily take you to bigger frames. So, are you searching for the best Web Designer Job in Nagpur? But before this, you need to know more about getting hired as a Web Designer.
What Does A Web Designer Do?
A Web Designer is the one designing the interface and layouts of the website. It carries the capability to make a website visibly interactive.
It includes graphics, fonts, icons and a good presentation of the content creating a user experience. They grip their creative and technical skills for a user-friendly website. For this, they use professional languages like Java, PHP and HTML for an improved website.
They interact with the clients and design websites to generate more leads.
It is know how to design a responsive website suitable for all screens.
They are responsible to design features for social media and other marketing platforms.
They know how to use graphics along with updating and maintaining the website.
Should A Web Designer Know Professional Coding Skills?
This becomes a million-dollar question arises when you pursue web designing. And it must arise that you need to have professional coding skills for web design or not?
So, let me clarify that you don't need to have coding skills for web design.
As web design is related to design aesthetics and usability. Instead of coding, they must know about photoshop, sketch and illustrator.
But, if a web designer knows web development as well, then there are higher chances to get hired.
What Skills You Must Know While Searching For Web Designer Job In Nagpur?
Getting Web Designer Job in Nagpur is not as easy as you think. You need to brush up your skills to get the best Web Designer Jobs in Nagpur:
UI & Visual Design
UI and visual design are the most vital assets needed for a web designer. An interactive user interface with an appealing visual design easily attracts clients.
Design Principles
For a visually appealing website, you must be well-known for the design principles. These mostly include balance, negative spaces, alignment, contrast and others. Knowing how these assets help to interact with and impact users is a must for a web designer.
HTML and CSS Skills
It is vital to have a well understanding of HTML and CSS frameworks. As both these have a great role in web designing. HTML codes imply the overall structure and functionality of the website. While CSS helps to style and add visual effects to the website.
Responsive Design
People on a larger scale use mobile phones to surf or visit websites. And there becomes vital for a website to hold a responsive design. A website must know to build a responsive design.
Content Management Systems
Today's latest websites are built using the top CMS and that too with WordPress. A web designer needs to know how to use WordPress.
Design Software
Design software is needed to give imaginary effects like graphics and images. A web designer must know the popular design software and have enough knowledge of them.
Digital Marketing
Online marketing must be implied while designing a website. Not like a pro, but to gather leads and client traffic, you must know basic tactics of marketing.
Styling features
A web designer must have a good knowledge of using style features and formatting menus. These include using colour schemes and typography.
Project Management
As a web designer, you must know how to manage projects with absolute dedication.
Time Management
Time management is similar to project management. A web designer must know how to manage projects and complete them at a given time.
Creativity
Being creative is a vital asset for a web designer. Designing approachable along with innovative websites is what clients look for.
Communication and Collaboration
Knowing about the client's needs is a vital feature before web design. You must interact with the clients and know what they expect from you.
On the top note, I know an expert company if you are searching for Web Designer Job in Nagpur. It is the Vowel Web LLP raising higher standards in web design and development. It is one of the ace companies seeking the best technological departments under its core. Also, they are the best service provider and imply the best team members to work with. Joining as a Web Designer in this company will surely raise your career to better heights.
Conclusion
Searching for Web Designer Job in Nagpur has too much to consider. As a web designer, you must know your skills and must improve them. As your skills are the main base to get hired as a Web Designer. You will find so many companies dropping the best services to employees. But don't get trapped by false claims.