Hire WordPress Designer for the advancement of your web development company. WordPress Developers are high in demand these days. As WordPress is ruling the digital world with its popular Content Management System. Developers find it easier to use with its easy set-up, plugins and functionality. Companies rely on developers to design and develop WordPress Websites. They hold the capacity to level up your company website with SEO strategies and designs.
What if your company has hired the wrong developer? Or how will you find the best WordPress Designer? This becomes a huge question when it comes to expanding your niche business. This is what this article is all about. We are gonna cover the best traits to Hire a WordPress Developer below.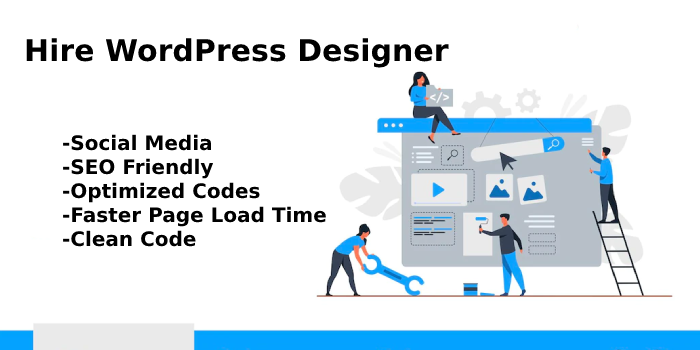 Advantages Of Hiring A WordPress Designer
With a WordPress Developer, you can easily learn the insights of your website.
WordPress Developer adds a custom functionality that further lets you add required elements.
A WordPress Developer ensures that your website has lesser chances of Cookie Cutter.
Your Developer will empower your website by boosting performance, speed and security.
You will be able to contact your developer in case of any query, technical issue or any.
What To Look For In A While Hire WordPress Designer?
Here are seven strong qualities of a WordPress Developer to keep in mind while hiring:
Technical Experience
Though WordPress is built on PHP that doesn't mean you will hire a PHP developer. That will be the wrong path you will move to. More than that, WordPress requires designing and developing for a website to launch. So while hiring, the candidate must hold technical experience in PHP, CSS, HTML, etc.
Ability to learn
Hire WordPress Designer with holding eagerness to learn and gain knowledge. The candidate carrying this mindset only fits with the upgraded tech world. And finding this type of candidate will be able to upgrade your website with the latest features.
Post-Development and Maintenance
A website is not just for designing, it needs to be developed from time to time. And this is the prime responsibility of a developer to look after this. This means that a website is required post-development, maintenance and deployment. And while hiring a developer, these qualities are mandatory to look at.
Knowledge of Web Security
When you include so much stuff on the website, it is obvious to have threats. It may be password threats, SQL injection or non-upgrading of the software. These are the timely threats which can be solved by a WordPress Designer. That's why to choose a developer who can solve these threats.
SEO strategy
As we know that most of the world is inclining their business with WordPress. This leads to a higher state of competition with emerging businesses. And who doesn't wants to achieve higher goals for the website? This should be the prime focus of a developer to keep SEO strategies while designing.
Effective Communication
Underestimating the need for communication skills must be avoided while hiring. As you don't know from which country or state you are hiring the designer. Lack of communication with the designer might affect web design. The candidate must be able to justify the actual meaning of what is going to be designed.
Ability to Work within budget limits
Budgeting is the most crucial task a business holds. Working within budget limits is what a true company depicts. This implies hiring a WordPress Designer as well. This may not happen that you get resources for your projects every time. And this should be a quality of WordPress Designer to be able to work under fewer budgets.
How To Hire WordPress Designer?
Now the most crucial and beneficial step is to hire a WordPress Designer. Pinning up with the right designer can be more beneficial for your company.
So, following the below steps might help to pick out the best:
Listing your Needs
Make sure you have a perfect mindset of what you need in your company website. Like it starts from the appearance, functionality and objective of your business. Keeping this, it will be easier to end up with the result.
Avoiding Low-cost Traps
You must look up to your budget while web designing and hiring a WordPress Designer. Though WordPress may cost low you must know how much you can pay for a designer.
Knowing the factors of a Potential Candidate
While hiring a perfect candidate, you must spy on their expertise. Looking up to its resume and ability to work will help you come out with a firm decision. It includes communication skills, IQ level, etc.
Hire WordPress Designer
Now, the final step comes to Hire WordPress Designer. Now that, you have collected all the necessary steps with you. You can end up hiring the best candidate.
Conclusion
A WordPress website is incomplete without a Developer. It is like you are giving life to a piece of material by designing it. So, every company looks to Hire WordPress Designer. WordPress is probably ruling the digital world in terms of launching new businesses. And why not when it is user-friendly and highly professional? Designers find it so efficient to use and come up with a great piece of website. So, we have depicted some best traits and given ideas to Hire WordPress Designer.